What a tragic story..
Story so far..
As he walked home, the unarmed 17-year-old spoke to his girlfriend in Miami via a hands-free earpiece on his cellphone he often used. He was spotted by George Zimmerman, a self-appointed neighbourhood watch volunteer, who was patrolling the gated community, the Retreat at Twin Lakes, in his vehicle.
Zimmerman called 911 to report what he described as Martin's "suspicious behaviour", telling the operator he looked like he was "up to no good, on drugs or something". Zimmerman was warned by the operator not to follow the teenager. But he did, getting out of his vehicle and taking a 9mm handgun with him.
Martin's girlfriend, who has provided her account to the family's lawyer Benjamin Crump, says Martin told her a stranger was following him. She told him to run home. Then the man reappeared behind him, she said. She then heard Martin say: "What are you following me for?" and someone else saying "What are you doing around here?". She then heard pushing, she said, because Martin's head set fell. At 7.16pm, four minutes after the call began, the phone went dead.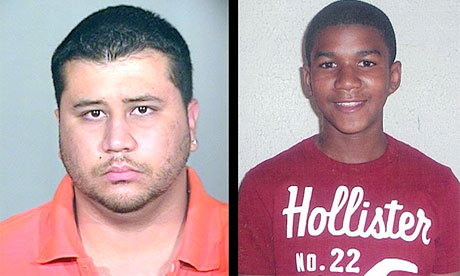 What happens in the last moment of Martin's life went unwitnessed by anyone other than Zimmerman.
According to neighbours, there was an altercation between the two men – Zimmerman, weighing 250lbs and armed, and Martin, weighing 140lbs and unarmed.
Witnesses and 911 calls record one of the men in great distress crying out for help.
One woman anxiously says she can hear someone calling for help while in the background, a wailing voice pleads, "No! No!"
By the time police arrive on the scene, at 7.17pm, Martin lay fatally wounded by a gunshot to the chest.
Zimmerman has admitted to the killing but told police he fired in self-defence.
Three and a half weeks later, Zimmerman is still free.
E FOR TRAYVON MARTIN