So i'm sure you've all heard the trending news of how nigeria top blogger acquired half a billion naira (600 million naira actually)property in the exclusive Banana island!
So what separates Linda from the rest of the pack?(
bloggers)?
well this is what she had to say?"
I have been hustling since I left secondary school..I started modeling before I entered university in 1998. Was running a modeling agency even while I was a student and made it a full time business after I left university. I never doubted that I would succeed one day, because I was determined. And please do not think this happened over night. I've been blogging since 2006...November this year will make it exactly 9 years. God, consistency and hard work brought me here today."
2006?, well, i also started blogging since 2006 o ,
see my very first blog
http://destinybs.blogspot.co.uk/
Lol... unlike her ,i gave up on that blog, why ?i ask myself ..hmmmm,other interest?maybe.. chei, i was just dolling out free gist, why someone else was building her brand ... do i respect her hustle, absolutely!!! and i'll be lying if i say i'm not motivated by this Lady, if there's anything she's taught me is that," anything is possible"
Who is Her Man?
She's obviously been trending all over twitter, but one thing ppl want to know is " Who is her man?"
well, i've asked my friend Google, and i couldn't come up with any name , apart from an ex boyfriend
Dan Foster:
Dan Foster a Black American radio personality who lives and works in Nigeria.(Nigerian idol)
In an interview with PUNCH the popular DJ has revealed how Linda in her modeling days – was crazy about him but then he was a cassanova dating two other women all at once.
Dan Foster: I took Linda for granted
"She was in love with me. But it didn't work out", Foster now married with children tells the newspaper. "I took her for granted and I was dating another person while I was dating her. I tried to keep a relationship in Abuja, another in Warri while she (Linda Ikeji) was in Lagos. Ah it was a nightmare."
Oh well, i guess she's moved on
I also like the,
"I'd Rather Be Self-Made" project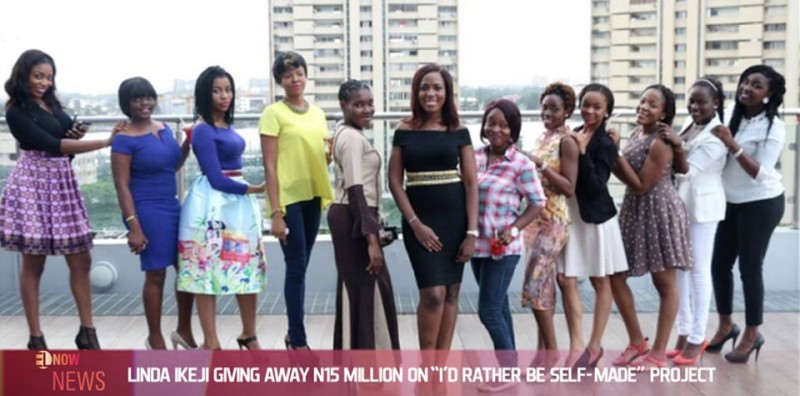 My house, my mum and my car...:-)
The compound
Sitting room
It's a glass house so you can see everything that's happening outside...:-)
Still the sitting room
The pool area
Happy woman. Had to wear my Selfmade Tee...:-)
The lawn - working on it to make it more lovely
Other side of the building...
They are cleaning the pool. Who wants to come teach me how to swim? :-)
Walking in my bedroom
Still my bedroom. Has a lounge area...lol. Choi!
And my walk-in closet...my bags and shoes are so happy! :-)
I'm having them add some things so work is on going there
Me in my bathroom! Can't believe this is my life now...
The view from my Jacuzzi
My Penthouse Terrace
My parents looking around in amazement...lol. My mum couldn't believe this is her new home...lol
The kitchen...my mum's favourite part of the house
Living in the house with my family. When I marry, I will move out! *sad face*..lol